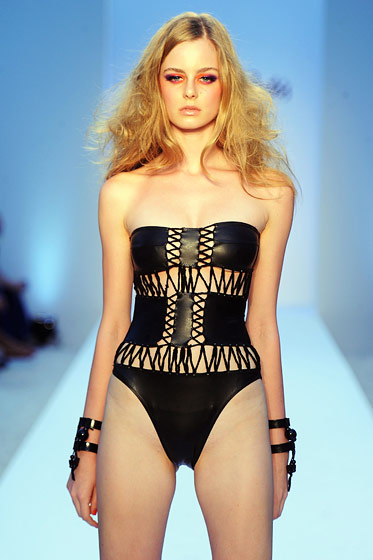 Although we applaud Dolores Cortes for trying.
(From NyMag.com)

Saturdays at the MoMA's PS1.
Great packaging for great packaging.  What could be better?  Let me tell you: for every condom purchased, Sir Richards also donates a condom to a country in need.  (Please insert your own magnum/magnanimous joke here.)
According to this earthquake map of the U.S. posted in the U.K.'s Daily Mail, the Midwest (Minnesota in particular) may be the only safe place left in America.  Some people may include Texas and Florida, but hello hurricane season.  At least I know that when the world self destructs I can always go home.
Every New Yorker likes to think that they are above the gawking and even noticing of the celebrities living amongst them.  Lady Gaga hangs out at the bar around the corner, no big deal.  I mean, she's just another person, right?
But yesterday, I realized that I am no better than the gawking tourists when I saw Louis CK filming his second season of Louie on my block.  Emily and I had no idea what was filming when we walked by the set.  Like a true Argentine, she stared trying to figure out what was going on, and I, like a true New Yorker, ignored the set and huffed about having to walk around their cones and extension chords.
It wasn't until we were right outside of my apartment that I saw the sign saying "Louie", and I completely geeked out.  I practically yelled, "Is this Louis CK?  Are they filming Louis CK? I LOVE Louis CK!" while Emily gawked at me, asking, "Who is Louis CK?"
While inside my apartment, I couldn't help but obsess over the fact that Louis CK was  filming a mere 50 yards from where I was sitting.  I couldn't have cared less if Brad Pitt or Leonardo DiCaprio were filming on my block, but this was LOUIS CK.  I even made a quick drive by on a fake run to the corner store, where I snapped the shot above on my phone.  After more fretting inside my apartment and gchatting everyone I know about it, I eventually convinced Emily that we should go over to the set and gift him a leather scarf as a ruse for being near his greatness.
But when we went over gift in hand, they were packing up and he had already left for the day.  Some production assistant reluctantly took the scarf but didn't promise anything about it actually getting to him.  So this was the brief and wondrous celebrity gawking experience of Jennie Engelhardt.
I am completely in love with my roommate's Staub cast iron tea kettle, and apparently now, so is New York Magazine who just named it a "best bet".  Even though it's clearly on its way to the top, I can always say that I knew it back when…
And the tea is especially delicious when drunk from a mug shaped like the Minnesota state bird.
Usually, when I return from Minnesota after the holidays it's a relief to be back from my visit with winter.  But this year, winter decided to follow me to New York.  So as a true winter native, I feel it is my duty to dispense some useful and practical advice for surviving this bleak time of year.
1.  Layer
Winter is not the time for less is more.  I like to wear many layers so that I can take them off as needed and am never too cold or too hot.  Although it looks like I am not adequately dressed for winter in the photo above, I have layered many pieces so that I'm actually very warm.
Here is a list of the layers I have on above: heat-tech tank, long-sleeve long underwear top, silk tank, wool cardigan, long vest, our Davis jacket, scarf.
2.  Get a pair of good boots
There is nothing worse than having wet feet when you're cold.  I received these boots for Christmas and have practically not taken them off of my feet since then.  Intended for hunting in bogs and wetland-ish areas, I find them perfect for walking around the city after it snows.
3.  Wear mittens
As part-owner of a company that produces gloves, I should probably be telling you all of the merits of glove wearing such as zipping up jackets, using a metrocard, making phone calls and texts with minimal typos.  But when the weather gets REALLY cold, I trade the perks of finger-usage for increased warmth.
4.  Drink hot chocolate
It tastes delicious, it warms your insides AND it serves a mini heater for your hands.  Need I say more?  Oh, and when it gets REALLY cold, whole milk mixed with real chocolate (instead of powder) is really the most effective.
5.  Do the shuffle
(no image available)
The shuffle is the only reliable method for getting around without slipping on the ice.  It also gets you places much faster than traditional walking in winter sidewalk conditions, thus minimizing your exposure to the elements.  Besides, picking up your feet while you walk was sooooo last summer.
So these are my tried and true winter survival tips.  And if all else fails, I recommend Emily's technique of wearing a full body down parka as soon as it drops below 50.
(Uniqlo Heat-Tech tank, Joie silk top, Kensie vest, Lacrosse boots, Hat Attack mittens, Taza hot chocolate.)
My big brother, Cory, recently proposed to his amazing girlfriend, Kathryn.  And luckily for him (and maybe for her, too!) she already had the ring situation figured out.  Kathryn's grandmother gave her beautiful antique engagement ring to her son, which was then passed on to Kathryn.  But, like many of our beloved antique and vintage items, its delicate materials were not as strong as they once were.
So they took it to Bnox jewelers (an amazingly talented jeweler in Pepin, WI – I have some pieces from them as well) who came up with the idea to add another ring behind the first ring for support.  It was then Kathryn's mom who suggested adding a diamond from her mom's engagement ring to the second band.  They did a perfect job creating a second band that compliments the first.  The whole set is really stunning, and I love how each piece is specially tailored for Kathryn.
Richard Gere and Winona Ryder aside, there really is something magical about autumn in New York…especially when you can take a Monday off and wander around central park in 60 degree weather.  Add in some whole milk hot chocolate and late afternoon sangria, and I may never wander back downtown.  If only I could start every week this way…
In this image: Graphite Schiller jacket, Portola Weekender bag (coming in February 2011!), Zara shirt, J Brand jeans, Stuart Weitzman 50/50 over-the-knee boots, vintage Ray Bans and vintage necklace.