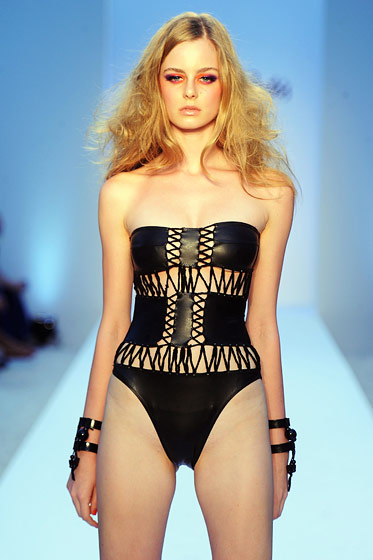 Although we applaud Dolores Cortes for trying.
(From NyMag.com)
I decided to go for leather on leather (Cowling scarf on Davis jacket) to meet my friend, Andrew (the photographer of these photos), for lunch.  I always wear my suede scarf on breezy days because it really stands up to the wind.  Unfortunately, it does not do the same for my hair.
Make that leather on leather on leather.  I had to run some errands, so I also brought my Portola Weekender Tote (coming for Spring 2011!).  Yes, the picture has not been modified, the bag almost reaches my knees.
Emily is finally here!  Last week was crazy dealing with shipments and new spring samples (sneak peak soon!), but we went out and celebrated Fashion's Night Out at Hayden-Harnett (we are thinking about starting a 4H club with them) in their Greenpoint and Nolita stores.  Here are some pics from the night, or actually, early evening when we were still remembering to take photos.
(And if you happen to catch Hayden-Harnett's live webcast of the event, you probably saw me sneaking French macaroons and then rearranging the tray before anybody noticed any were missing.  This was before I knew that the web cam was sitting on the food table…)
Yesterday, I sent our first fall shipment to Souchi in Portland, OR.  (I reused an old Zabar's box, so hopefully she isn't disappointed that there's no chocolate babka inside…)
So we know our fall collection is a little barren color-wise.  What can we say?  Winter weather brings out our neutral side.  Spring, on the other hand, makes us want to wear pretty things that look like ice cream flavors.  Yesterday we visited a tannery in the Provencia (just outside of Buenos Aires) and were inspired by all of the beautiful colors of hides.  (Spoiler Alert!)  We are definitely planning on using more than a couple for some fun skirts, dresses and handbags for spring 2011.
Last week I packed up my apartment, stored most of my worldly posessions and took off for Buenos Aires.  I was only briefly mortified when my eyes started welling with tears while watching my in-flight movie selection, The Blind Side.  But thanks to Ambien and the empty seat next to me, I had a safe and pleasant flight overall.
It feels good to be back in a city full of green leaves, amazing steak and French bulldogs being walked on every block.  Although I have managed to make some time for a few of my favorite Porteño* activities (eating ice cream at Persicco, browsing boutiques in Palermo Soho, drinking Malbec), so far I have mostly been working with Emily on details for manufacturing our Fall 2010 collection and designing our line for Spring 2011.
Yesterday, we visited the woman who makes our gloves, Maria Lucia, at her store, Guantes Adem, in the stately Recoleta neighborhood.  Walking past the designer boutiques, sidewalk cafes and endless French architecture, it is easy to miss the entrance to the galleria that houses Guantes Adem.
In contrast with the designer stores, sidewalk cafes and endless French architecture outside, the dim fluorescent lighting and original signs of the galleria make it feel like you are stepping into a different world.
Once inside the only slightly better lit store, Maria Lucia, came out and warmly greeted us with the standard Argentine greeting of a kiss (a real kiss) on the cheek.  It is so nice to finally meet the people with so much skill who have spent so much time on our line.  And she is exactly as I imagined she would be.
Maria Lucia is the fourth generation of a glove making family from France** and she makes all of her gloves by hand in the back of her shop.  Even though she can only produce a certain amount of gloves per season, she reassured us that she would be able to complete our order in time for fall.  I am not sure what it is, but something about her quiet yet warm personality reminds me of Old Belfana.  It makes me actually not dread glove-wearing season, which is lucky since cooler weather seems to approaching a little too quickly here in the southern hemisphere…
*Argentines who live in Buenos Aires
**Yes, I mentioned French things/people/pets three times in this post.  Apparently, there is a reason they call Buenos Aires the Paris of South America…
Check out some pics from our Fall 2010 lookbook on our facebook page:
Despite the impending snow storms, Emily made it in from Buenos Aires just in time for our launch open house, which we held yesterday. Margaret and Rick (the amazingly creative owners of Studio XL, the agency I worked with on ad campaigns when I was at Stuart Weitzman) were so nice and let us use their fabulous townhouse in the East Village to host the event.
The beautiful townhouse and decorating definitely enhanced our jackets:
We used leather scraps to hang up our pieces:
And our glove display:
We were really excited about the positive response that we received from the industry – it was a nice addition to the positive responses that we've already been receiving from our clearly unbiased friends and families.
But our big hit of the day, may have been our take-home gifts:
(at least they were a big hit with me around dinner time…)
Anyway, we just want to say thank you for everyone who came and who have supported us while we have been launching our company – you're the best!
So we finally got our samples (who knew customs cared so much about leather jackets?!) and were able to  shoot them for our lookbook.  We were more than a little concerned that we wouldn't get them in time to print a lookbook for our launch open-house on Tuesday, but luckily, it all worked out.  (Well the photo-shoot, at least, fingers crossed on the rest.)
Here's our amazingly talented photographer friend in the plaid, Aaron, taking initial photos to check the lighting, which ended up looking really great.  Also, since we got our samples so late and had to move the shoot back, Aaron stayed up all night (Aaron, you're the best!!) retouching so that we would have the images ready to print.  Our other insanely talented friend, Marley, did her magic on the hair and make-up and in helping me out with the styling.  I am completely in love with the big, short, messy hair – maybe i'll have the guts to go that short some day…
This is one of my favorite comps from the shoot.  I love how the suede scarf looks with the nappa jacket.  I thought the leather on leather might be too much, but the contrast turned out really cool.