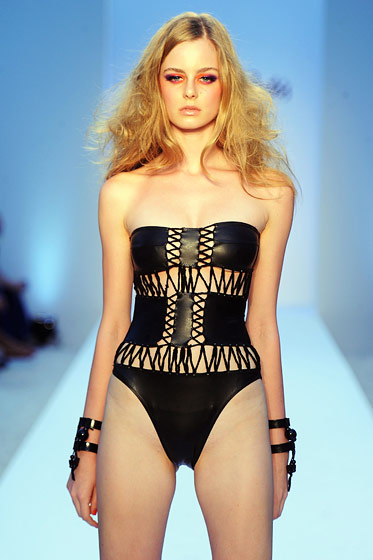 Although we applaud Dolores Cortes for trying.
(From NyMag.com)

Broadway and 29th.
And who doesn't need a go-to little Steve Buscemi dress?  Available from Black Milk for $100.

"Holding Pattern" by Interboro Partners, winner of the Young Architects Program at PS1.

James Turrell's "Meeting" at PS1.

Saturdays at the MoMA's PS1.
Great packaging for great packaging.  What could be better?  Let me tell you: for every condom purchased, Sir Richards also donates a condom to a country in need.  (Please insert your own magnum/magnanimous joke here.)
Last weekend I was on my way home when I couldn't help but stop and stare at these beautiful men's shoes.  Unfortunately being 5'3″, I've learned that coveting thy other gender's clothing/accessories usually only leads to heartbreak.
But not being one to give up, I found some great menswear inspired shoes in appropriate lady sizes online.  These are a few of my favorites for spring:
Clockwise from top left: Grey Patent Loafers by Repetto, Trousr-G oxfords by Steve Madden, Julietta lace oxfords by Opening Ceremony, Hampton penny loafers by Brian Atwood, Ines patent oxfords by Alexander Wang
According to this earthquake map of the U.S. posted in the U.K.'s Daily Mail, the Midwest (Minnesota in particular) may be the only safe place left in America.  Some people may include Texas and Florida, but hello hurricane season.  At least I know that when the world self destructs I can always go home.