To me, the only thing better than French Bulldogs are mini French Bulldog chocolates.  And the only thing better than receiving mini French Bulldog chocolates is having an amazing friend/business partner who finds you the perfect birthday present that you didn't even know existed.  Thanks so much, Em!
Other than sleeping past noon, my favorite part about the weekend is brunch.  Last weekend, some friends I headed to a neighborhood place called The Clerkenwell where we discovered delicious fruit-topped French toast (my go-to brunch favorite)  as well as a make-your-own bloody mary bar.  It prepared us well for a busy afternoon of Hulu and napping.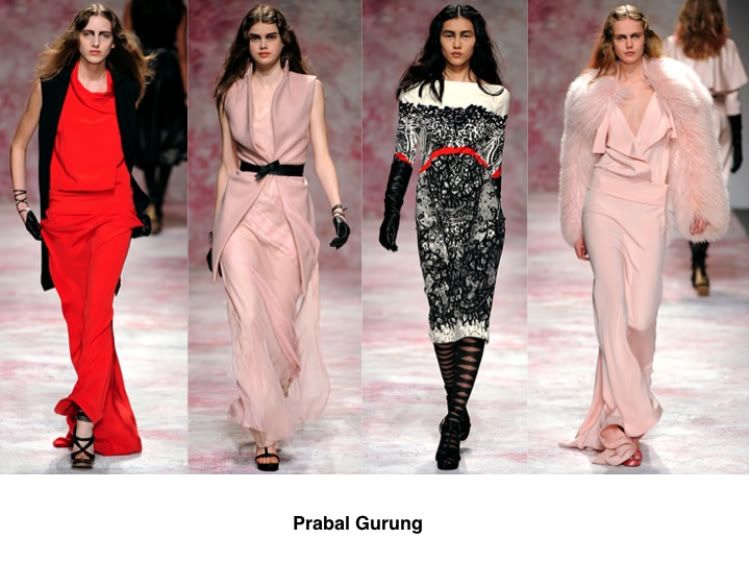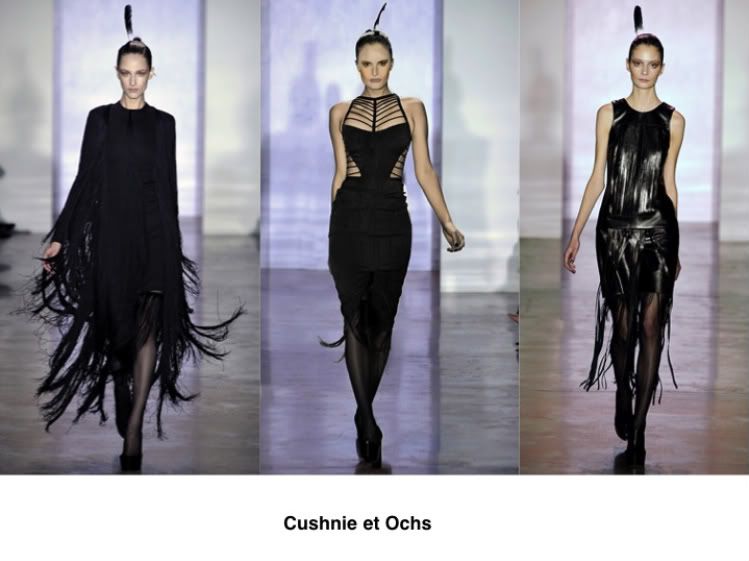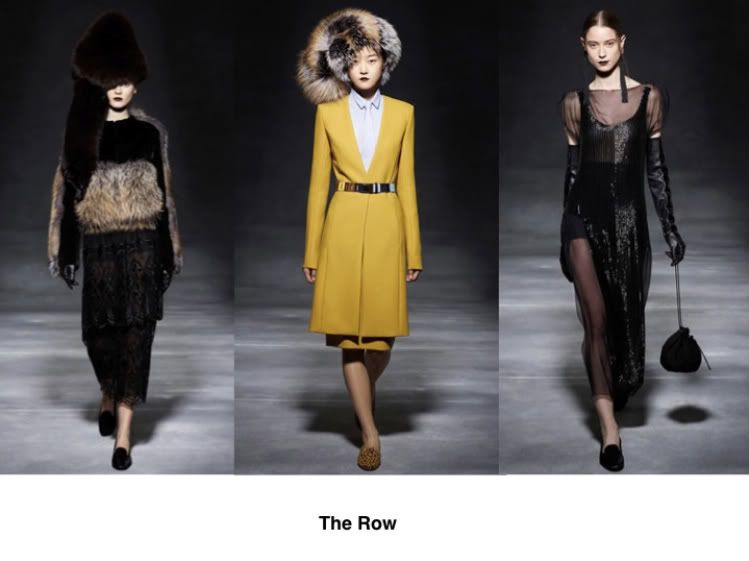 After five full days of shows,  I've been checking www.style.com a few times a day to see the latest slideshows. So far, the Fall collections from The Row, Prabal Gurung and Cushnie et Octs are my absolute favorites.
If I could, I would live my life (which would obviously include many occasions to these clothes) in the Fall '11 line from Cushnie et Och's. This collection is chic, sophisticated with a touch of Pocahontas. I've never wanted to wear extra long fringe before, but now it sounds like an excellent idea.
Prabal Gurung's collection definitely has a bit of old Hollywood glamour and yet seems completely relevant with pops of bright color and unfussy silhouettes. While I never really paid attention to The Row before, their fall collection seems darkly romantic..although really I don't know how I could pull off a fur cone hat with a tail (and probably a face).
(All photos from www.style.com)
In honor of this beloved holiday, I decided to make a little playlist with some of my favorite Valentine's Day appropriate songs (ie. some of my favorite songs).  Yes, I realize the criticism I'm going to receive for some of these choices, but I can't help what I love.  Eat your heart out, Pitchfork!
Need You Now by Cut Copy

History Lessons by Dinosaur Feathers

You Belong With Me by Taylor Swift
Chocolate Raspberry Lemon and Lime by Muscles

Dixon's Girl by Dessa

Hey Soul Sister by Train

Heartbeats by José Gonzalez

While probably not the official video for this song, I think this commercial is so beautiful that I wanted to include it.
www.vanessajackman.blogspot.com
Since I am a master procrastinator, it should surprise no one that I spend a part of each day perusing my favorite fashion blogs. When I worked in marketing and was ostensibly hard at work "researching",   I honed the skill of finding interesting style blogs to add to my daily read list. Now that style inspiration is actually relevant to my work life, I make no excuses for visiting each of these blogs on a daily basis.
www.theglamourai.com: New Yorker Kelly Framel of The Glamourai has incredibly chic personal style. In this picture she's wearing the Hare+Hart laird trench!
www.wethepeoplestyle.com:  This Sydney-based street style blog always makes me want to book a ticket to Australia.
www.vanessajackman.blogspot.com: London based street style photographer Vanessa Jackman takes some of the most beautiful photos I've seen.
www.hanneli.com: Hanneli Mustaparta is a Norwegian former model who has an eye for really interesting details and contrasts.
While in San Francisco last week, I couldn't help but take some time out to go antique shopping in the Mission District.  What could be better than pizza from Delfina's followed by mid-century home furnishings?  Oh yeah, following it up with a burrito from El Farolito.  Mmm, I miss San Francisco already…
Buenos Aires has a crumbling, old world charm to it that you can really see in old restaurants and buildings like this one. I think BA is beautiful, but mainly because you can see how once elegant homes have become a little dilapidated and worn around the edges.
Since my friend Lynn and I both have flexible schedules (ahhh life is really hard, I know) we decided to have lunch in this slightly out of the way but beautiful cafe called Malvon.
Malvon is actually new, but as you can see the owners renovated an old, traditional family home and turned it into a restaurant. I love how they've maintained the vintage feel of the house and used all flea market furniture. The food at Malvon is delicious, the atmosphere is charming and the service is terrible, making lunch here the quintessential BA dining experience.
I am completely in love with my roommate's Staub cast iron tea kettle, and apparently now, so is New York Magazine who just named it a "best bet".  Even though it's clearly on its way to the top, I can always say that I knew it back when…
And the tea is especially delicious when drunk from a mug shaped like the Minnesota state bird.