Last month, I was estate sale-ing with my mom, when I came across this amazing chair for only $10. And by amazing, I mean that it had amazing potential. Although my mom could not see past the sunken seat and ragged upholstery, the moment I found it sadly sitting in the corner I could only think one word…project. And that made me love it even more.
Unfortunately, I never learn my lesson and remember that projects always end up taking 10x more time than I originally think (ahem, sewing dust bags). And this chair was no exception. I knew the seat needed a little work, but I was not prepared for what I found after removing the fabric.
Luckily, this minor setback did not deter me. After watching many YouTube videos found by searching for "reupholster chair", I was able to rebuild the seat so that it is at least sit-able. It may not survive a raucous game of musical chairs, but as long as it makes it back to New York in one piece, I will be pleased.
Once the seat was finished, I wrongly assumed (again) that the back would be a breeze. Removing all of the decorative nails alone took at least 2 podcasts of This American Life. Luckily, I got a little lake time to relax before putting them back in, and by the time I resumed work again, the humidity had picked up and helped me to stretch the fabric around all of the curves.
All in all, I am pleased with the outcome of my project – although, please don't look too closely, especially around the corners. And, hopefully, I will remember the rule of 10 before diving into my next home decorating project.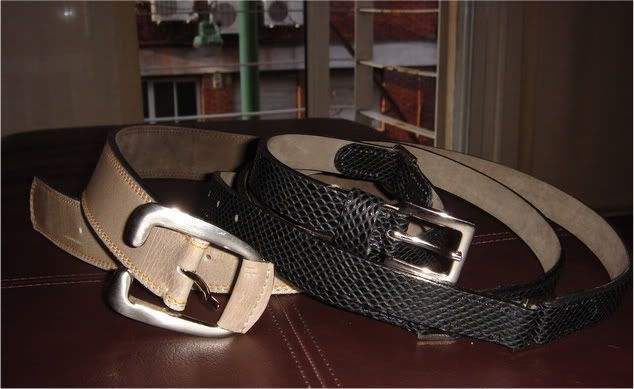 Happy 4th of July! On a completely unrelated note, I just wanted to post a quick sneak preview of a few belt samples. They're still a work in progress but here are the first pictures of our 100% vegetable dyed belts! In case you thought there is more leather in this picture than really necessary (what with my leather ottoman included in the shot), I just want to clarify I do own clothing and furniture made from more than this one material!
One of the best parts of working from home is being able to set where that home may be.  Although very different from my loft in Brooklyn, here is where I've been working while home in Minnesota: