So after a few months of life in Argentina, I start to miss certain things about home. Not unusual for me (or Jennie!) this manifests itself by way of food cravings. I never realized how much having good Thai food available influences quality of life, but believe me, it does.
So this food related homesickness brought me to make my first ever carrot cake, something completely impossible to find here in Buenos Aires.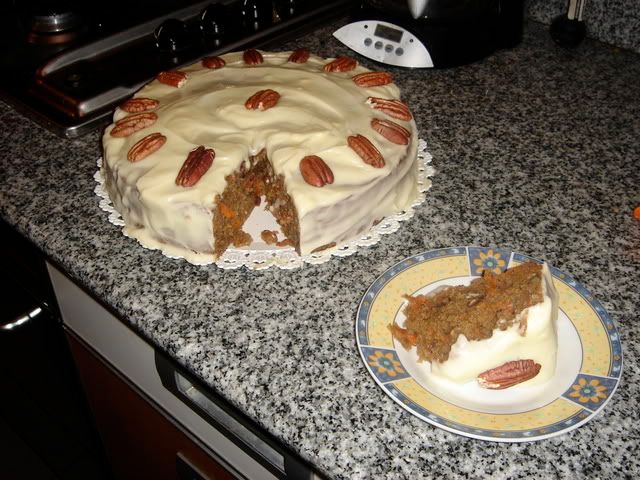 There you have it, my first ever carrot cake with pecans and raisins (and a ton of cream cheese frosting)
It is delicious!!! Jennie, I wish you were here as my official taste tester to tell me what you think.
Here's a slice for you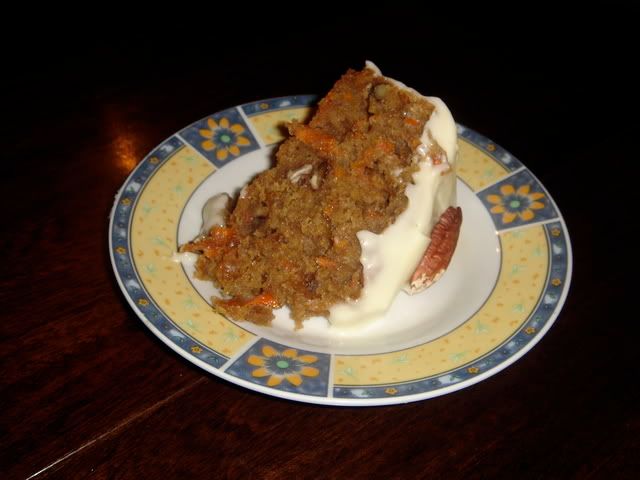 If you happen to be in New York tomorrow evening, we recommend that you check out the Rainforest Alliance's annual fundraiser.  The Rainforest Alliance works to conserve biodiversity by helping to develop sustainable and ecological land-use practices, business practices and consumer behavior.  This includes sustainable tourism and farming as well as Rainforest Alliance certified products – I, personally, am a huge fan of the Rainforest Alliance certified dark chocolate.
While you're there, you also have the chance to bid on a pair of our Brooks gloves.  They have not yet arrived in stores, so you could be the first person to own a pair.  (I even sewed and stamped the dust bag myself!)
If you can't make it to their fundraiser, you can always donate to the Rainforest Alliance here.
One of the things that I enjoy most about Hare+Hart is learning about all aspects of the leather industry.  Although I previously worked for a shoe company, I was never familiar with the various ways in which leather is processed and colored.  Now that we have to source our own hides, we are learning about the important steps that can make or literally break your leather.
The most common way that leather is treated is using chrome.  This colors the hide and significantly strengthens it so that even very thin leather does not break.  This is essential for leather jackets and clothing, which required thin hides in order to maintain movability.
Starting in Spring 2011, we will be selling handbags made from 100% vegetable dyed leather.  The vegetable dye does not strengthen the hide enough to use for clothing, but is ideal for thicker leather items such as saddles, shoes or handbags.  While vegetable dyes do not yield as bright or light of colors as chrome, we got creative with the color palette and are excited with the first samples.  We can't believe we have to wait a year until they actually come out!