Ahhh, that mushroom risotto looks delicious!  I made myself a slightly less gourmet meal of Cheerios and milk for lunch.  But despite my lacking food choices, I am at least surrounding myself with beautiful scenery.  Right now, I am dog sitting in Piermont, NY, a sleepy town along the Hudson river with quaint antique shops and scenic hiking.  It is the ideal getaway from the city.
But since it is only an hour away by bus, it is also ideal for getting back into the city.   Yesterday, I took the bus back into Manhattan for a meeting in the Empire State Building with Riri, the company that makes our favorite zippers.  They let me borrow a sample book to select zippers for our Spring 2011 collection, and I can't stop thumbing through the pages and imagining different tapes and finishes with our different designs.  There are so many options – I never knew zippers could be so exciting!
After an amazing but COLD trip to New York, I was very excited to catch the last bit of summer in Buenos Aires and have lunch in the terrace of my favorite hidden cafe.  A few blocks from my apartment on beautiful tree lined Castex street is the Museo Metropolitana.  Inside its courtyard is the Cafteria del Museo which everyone should visit on a trip to Buenos Aires. Not only are the daily lunch menus always delicious and the the outdoor patio always beautiful, but the museum is also the set for a local TV series (I still havent figured out which one, my friend is investigating!) and sometimes you can sit and take in the comings and goings of stylists, actors and film crew assistants. All in all, an excellent way to spend a lunch. Oh, and that delicious menu which includes a drink is only 7.60 USD…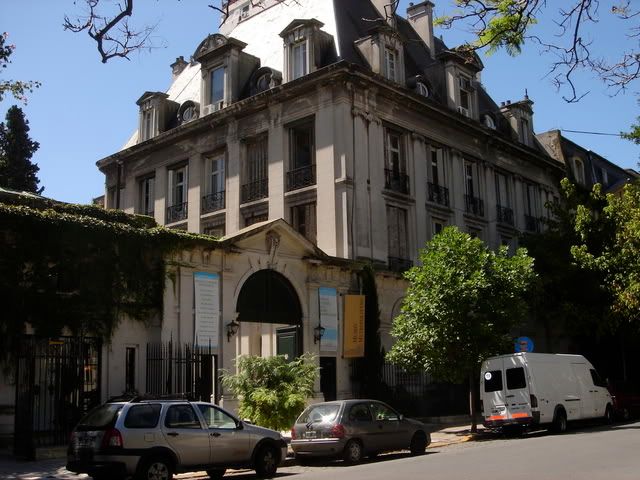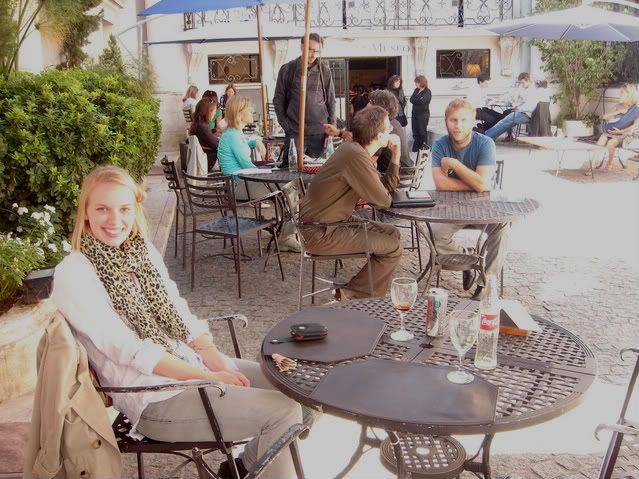 Yesterday, I fondly bid farewell to our samples and shipped them off to the West Coast.  True Collaborative Fashion, a showroom based out of Portland, OR, will be representing us in their LA showroom for LA market week (March 18 – 23).
We're excited to work with True Collaborative  - we only hope we can hold our own with the other brands that they represent (ie. Prairie Underground!).  In any case, we are thrilled that Tracey and Tyler (the owners of True Collaborative) want to, as they put it, "pimp" our line.
Sadly, today was Emily's last day here in New York.  Although I will miss eating truffle fries with her at 5 Leaves, checking Gilt Group with her at noon and slowly elliptical-ing next to her as she runs mile after mile on the treadmill when she drags me to the gym, I know she has to get back to the double-D's in her life: Dani (her adorable boyfriend) and Diego (our fearless pattern-maker and manufacturer).
So I dropped her off at JFK and then sang along to 90′s top 40 hits as I drove my zip car down the BQE and back to it's lot in Brooklyn.  I am counting down the days until I head down to visit her in April…
After a long week of work and a much needed Friday afternoon nap, I took my black Schiller jacket for a night out.
I paired it with a short gray silk Theory dress, black tights and Stuart Weitzman snakeskin platform pumps, some gold chains and, as always, my favorite Raymond Weil man-watch.
First stop:  Cherin Sushi in the East Village.  I am always skeptical about BYOB restaurants and especially those with gimmicky human named rolls (ie. Rachel roll, Jim roll), but I was pleasantly surprised by the freshness of the fish and avocado.  My only complaint is that other than the Sushi Surfer roll (with banana) it was difficult to discern between the different rolls.   But for this price and BYOB with no corkage fee, I will definitely come back.
Schiller and I then headed to the Studio at Webster Hall for the Dinosaur Feathers album release party.  We arrived just in time to see the Darlings play.  Appropriately named, they remind me of that friend-of-a-friend's band I would have had a crush on in high school.
As a perfect end to the party, Dinosaur Feathers played their entire album in one of their best performances I've ever seen.  The Studio was packed, and the hot, sweaty performance was just right for the middle of winter.
In addition to Greg (lead guitar and vocals), Derek (keyboard and vocals), Ryan (bass guitar and vocals) and the mysterious suitcase (drum machine), they also had extra vocalists and a violinist join them on stage.
After the show I had a chance to talk to Greg before they head out on tour on their way to SXSW.  He likes the Schiller jacket, but thinks he may prefer the Sevy cropped jacket, or as he calls it, "the jacket for fat babies".
I then traded my heels for flats, and Schiller and I headed outside to catch a cab back over the bridge to Greenpoint.